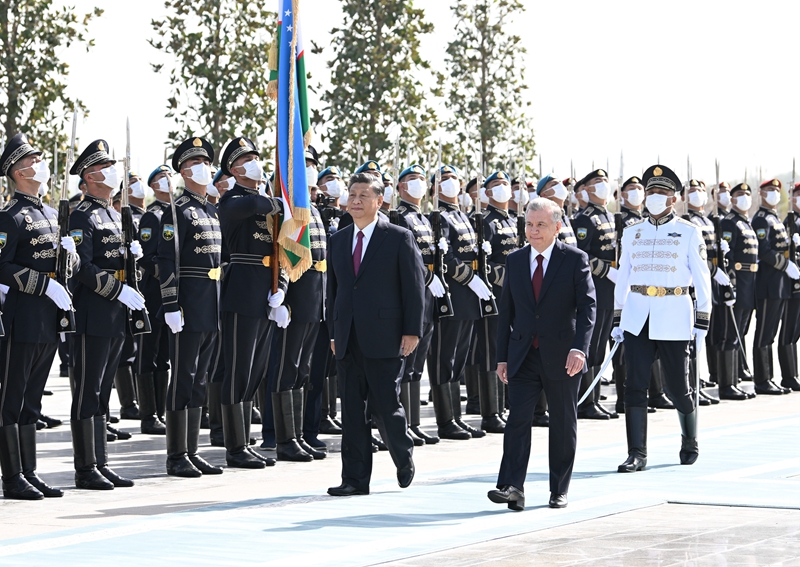 Beijing: On his first overseas trip since the onset of the COVID-19 pandemic, Chinese President Xi Jinping traveled to Kazakhstan and Uzbekistan, paying state visits to the two Central Asian countries from September 14 to 16. In Uzbekistan, Xi also attended the 22nd Meeting of the Council of Heads of State of the Shanghai Cooperation Organization (SCO) in the city of Samarkand.
"This will be China's most important event in head-of-state diplomacy on the eve of the 20th National Congress of the Communist Party of China, showcasing the great importance China attaches to the SCO and our relations with Kazakhstan and Uzbekistan," Foreign Ministry spokesperson Mao Ning said at a regular news briefing on September 13.
Ahead of Xi's departure, he published signed articles in the leading media outlets of the two countries, calling for deeper mutually beneficial cooperation in both articles. In his writings, he also touched on the China-proposed Belt and Road Initiative, Global Development Initiative (GDI) and Global Security Initiative (GSI).
"President Xi may use this visit to promote the GDI and GSI. Both represent a next step in the Belt and Road Initiative and are firmly grounded in President Xi's vision of building a community with a shared future for humanity," Swaran Singh, a professor of international relations at Jawaharlal Nehru University in New Delhi, India, said.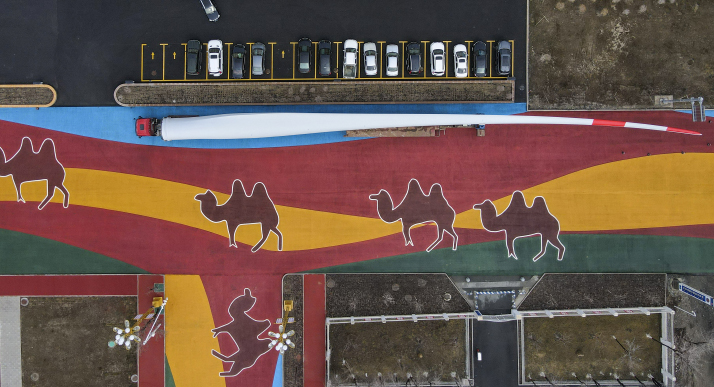 A show of unity
This year celebrates the 30th anniversary of diplomatic relations between China and the five Central Asian countries, namely Kazakhstan, Kyrgyzstan, Tajikistan, Turkmenistan and Uzbekistan, with four of them also SCO member states.
From the January virtual summit of Chinese and Central Asian leaders, to the China+Central Asia foreign ministers' meeting in June and the SCO Samarkand Summit in September, these Asian neighbors have been actively interacting this year.
The countries are consistent with each other in the positions they take when engaging in significant international and regional affairs, Zhang Ye, an associate researcher with the Institute of Eurasian Studies at the China Institutes of Contemporary International Relations, said. The fields they collaborate in are also consistent with the SCO's cooperation framework that includes regional security and sustainable development.
This time, Xi's first stop was Nur-Sultan, political capital of Kazakhstan. Over the past three decades, the Sino-Kazakh relationship has developed from good neighbors to strategic partners and to permanent comprehensive strategic partners, Xi wrote in his signed article prior to his trip.
"It's very rare to see the term 'permanent strategic partnership' appear when defining our ties with other countries," Wu Hongwei, a Chinese scholar focusing on Eurasian studies and the China-Kazakhstan relationship specifically, told Beijing Review. "The ties have been politically and economically consolidated in the past decades."
"In the 30 years since they first established diplomatic relations, especially after the Belt and Road Initiative was proposed in 2013, the two countries were expanding and deepening their economic cooperation which has massively benefited the two peoples," Guangming Daily quoted Chinese Ambassador to Kazakhstan Zhang Xiao as stating in the lead-up to Xi's visit.
The bilateral trade volume that was only $368 million in 1992 reached $25.25 billion in 2021, a near 70-fold increase in roughly three decades. In the first seven months of this year, trade between China and Kazakhstan went as high as $17.67 billion, an increase of 18.9 percent year on year. It is expected to reach a record high throughout the year. At present, China is Kazakhstan's second largest trading partner, its largest export destination and second largest source of import.
China-Uzbekistan cooperation has been fruitful. All four lines of the China-Central Asia natural gas pipeline run through Uzbekistan. The Angren-Pap Railway line completed in 2016 is a milestone project between the two countries under the Belt and Road Initiative. The Qamchiq Tunnel along the line is the first of its kind in Uzbekistan. It cuts travel time from Tashkent to Fergana by six hours.
More transport potential is being unleashed from the China-Kyrgyzstan-Uzbekistan Highway and the China-Kazakhstan-Uzbekistan Railway. Uzbekistan is thus transforming from a land-locked to a land-linked country.
"We are good brothers supporting each other in times of need. China and Uzbekistan, with their interests closely entwined, have stood together through thick and thin," Xi wrote in his signed article published on Uzbek media on September 13. The two sides have also carried out joint projects in new energy, agriculture, finance and modern telecommunications, delivering greater benefits to the two peoples.
"Neighbors needs frequent visits and then ties get closer. This in-person exchange will produce unexpected fruits," Wu said.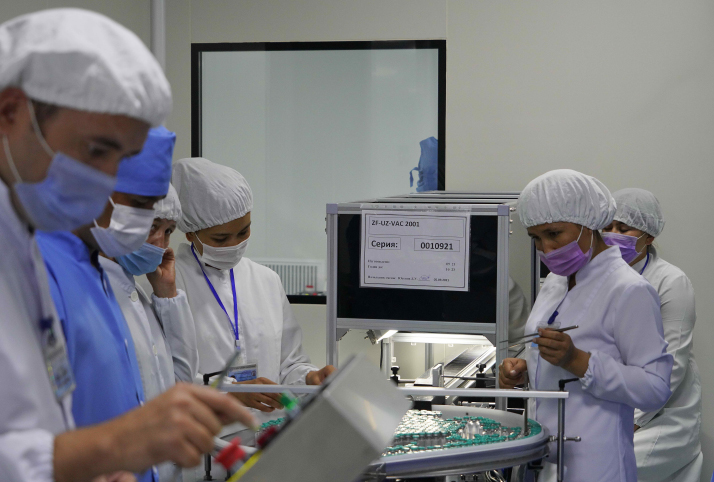 Efficiency all the way
On September 14, the half-day meeting between Xi and Kazakh President Kassym-Jomart Tokayev, as well as high-level officials from both countries, generated a series of documents and agreements.
During the talks between the two presidents, Xi pointed out how the bilateral relationship has stood the test of the changing international landscape, achieving greater substance, higher levels and more fruitful outcomes in the past 30 years. "China will always be a trustworthy and reliable friend and partner of Kazakhstan," he said.
Tokayev said Xi's choice to visit Kazakhstan on his first overseas trip since the onset of the COVID-19 pandemic, and on the occasion of the 30th anniversary of China-Kazakhstan diplomatic relations, reflects the high degree of mutual trust that exists between both countries and the high-level nature of the Sino-Kazakh permanent comprehensive strategic partnership.
The two sides issued a joint statement to mark the anniversary. The statement summarizes the achievements of bilateral cooperation over the past decades and underscores a promising future of coordination between the two sides.
In 2013, Xi first proposed the Silk Road Economic Belt in Kazakhstan, which together with the 21st-Century Maritime Silk Road constitutes the Belt and Road Initiative. As its 10th anniversary is drawing near, the two presidents also exchanged their ideas and opinions on the topic. "It is important both sides work together for high-quality Belt and Road cooperation," Xi said, listing the initiative's different dimensions covering economy, trade, COVID-19 response, technology and people-to-people exchanges.
Tokayev said the Belt and Road Initiative has become an important engine driving the building of a community with a shared future for humanity, and Kazakhstan will continue to actively support and participate in cooperation under the initiative.
Xi's visit, albeit a short one, was highly productive, Tokayev said, adding the two leaders had reached important consensus which will steer Kazakhstan-China relations to an even higher level.
Xi left for Uzbekistan later that same day and held official talks with his Uzbek counterpart Shavkat Mirziyoyev in Samarkand the next morning.
As a good friend, a good partner and a good brother, China firmly supports Uzbekistan in following a development path compatible with its national conditions, Xi said.
Noting that this year also marks the 10th anniversary of strategic partnership between the two countries, Mirziyoyev pointed out that Xi's historic state visit will certainly consolidate the traditional friendship between the two countries, chart the course for future cooperation, and elevate the Uzbekistan-China comprehensive strategic partnership to a new level featuring new vitality and new prospects.
Xi emphasized that China and Uzbekistan should firmly support each other on issues concerning national sovereignty, independence, territorial integrity and other core interests, move faster to synergize their development strategies and promote common development.
Following the talks, the two heads of state issued a joint statement on promoting the comprehensive strategic partnership between the two countries and advancing all-round cooperation with relevant departments signing multiple cooperation documents
In the joint statements signed in Kazakhstan and Uzbekistan, both of the countries firmly adhere to the one-China principle, and reiterated that the government of the People's Republic of China is the sole legal government representing the whole of China, and that Taiwan is an inalienable part of China's territory. Meanwhile, both would like to actively push forward the synergy between their own development strategies and the Belt and Road Initiative and support the GDI and GSI mechanisms.
Xi also met with Russian President Vladimir Putin, Kyrgyz President Sadyr Zhaparov, Tajik President Emomali Rahmon, and state leaders of Turkmenistan, Mongolia, Belarus and Azerbaijan on the same day.
Security stabilizer
On September 15, the ancient city of Samarkand gathered 14 state leaders for a series of formal meetings. The Samarkand Summit was the first face-to-face meeting of the SCO leaders in the roughly three years since the onset of the pandemic.
"In the past 20 years since the organization's establishment, the SCO has created a new model based on partnership and dialogue, rather than alliance or confrontation. It is always committed to safeguarding regional security and promoting common development," former SCO Secretary General Rashid Alimov wrote in his article published by People's Daily online.
"President Xi may like to share his vision about his two recent global initiatives—namely, the GSI and GDI—where he wants to bring forward ancient Chinese wisdom in refurbishing the post-World War II global financial governance architecture that must respond to new ground realities to ensure their representativeness as well as their relevance and remit," Singh said.
"With major energy suppliers and consumers sitting together they are expected to explore strategies to ensure stability amid food and fuel shortages and raging commodity price rises across sectors," he added.
Josef Gregory Mahoney, a professor of politics and international relations at East China Normal University, takes that the SCO is a rare bright spot in global affairs. "It continues to grow with Iran set to sign instruments of membership during this meeting, and many other countries wanting to join," he wrote on LinkedIn ahead of the summit.
"Iran was sanctioned by Western countries for years. Its joining the SCO will bring more opportunities for Iran via closer regional cooperation," Wu said. Contrary to the Western bloc led by the United States, advocating political and economic hegemony, China and many more countries opt for a different approach, he added.
"The SCO is helping address key security needs in an area that was too long a playground for hegemons. The U.S. is now out of Afghanistan, the region is picking up the pieces and building on their links to help recover from COVID-19," Mahoney said.
–The Daily Mail-Beijing Reviews