Some people living outside China might expect me to comment about the legendary landscapes of Tibet Autonomous Region or about Tibet's people. Some might even ask me whether I saw the Snowman…
When I was a child, my imagination was populated with such clichés and, for most foreigners, Tibet remains an unknown and mysterious territory—one giving free rein to their imagination.
When you visit Tibet for the first time, as I did, it's much more than a trip: It is a life experience that makes you think about yourself, about your relationship with life, with others, with nature. It is an experience that helps you grow. You will not be the same after having traveled to Tibet.
The Tibetan landscapes are impressive and endless. They leave you with this unique feeling of infinity. They remind you how small and weak you are when facing nature. There is no way to control such nature. You can only live with and adapt to it. It represents a major challenge for any attempt at development.
This nature has not only forged impressive landscapes but also Tibet's people. They are valiant, powered by an inside strength and eager to deal with change. In addition, they value their millennia-old cultural heritage. And they know what hard and sustainable work means.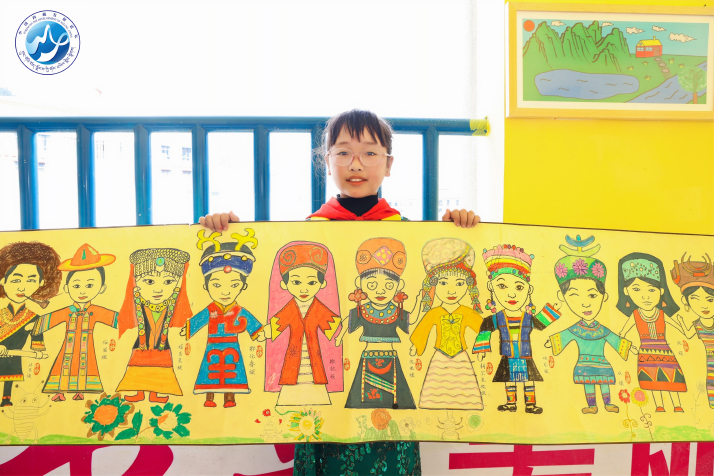 A primary school student in Nyingchi, Tibet Autonomous Region, holds up her painting themed on ethnic unity on May 18 (COURTESY PHOTO)
Building the future
Over the last decades, Tibet has developed around a unique model combining economic growth, and the preservation of cultural heritage and the environment. But how to go about such development?
First, through massive investment in quality infrastructure. I was impressed to see electricity everywhere, reaching the most isolated villages and houses high up in the mountains. The roads are modern, safe and comfortable to drive on. At an altitude of 5,200 meters, I could still check my e-mails and chat on my mobile phone.
The running water system also continues to expand, reaching the remotest of locations, one step at a time. Residential buildings are popping up everywhere in cities, whereas modern and equipped new houses gradually replace the old, worn-down ones.
The railway network is effective and modern. As a passenger, I could travel from Lhasa to Nyingchi [two cities in the region that are 400 km from each other by railway] in a fast and comfortable train.
I also noticed the tangible investment in the healthcare system, from high-quality hospitals, ready to accept a large public and offering many specialties, to medical facilities in remote villages.
Second, I saw how, through smart business investments, quality tourism, respectful of nature, preserving and promoting this unique cultural heritage, facilitated the development of good-standard family hotels, fine restaurants, museums, tourist activities as well as the flourishing of a dynamic network of local subcontractors.
I was also impressed by the Zhuomaquan water plant where top-quality water from Tibet's glaciers, very pure, gets bottled through a top-notch engineered production line. Oil giant Sinopec's investment in the region has created many direct and indirect employment opportunities, allowing modest families to get access to a better life and future.
The third axis of development is the exceptional movement of solidarity from Chinese provinces and companies like Sinopec, which funded, for example, the School of Bangor. This school is a full educational complex, including not only a "classic" school but also a spacious recreational yard, a stadium and dormitories. It gives local children the best gift to escape from poverty: education. And you can see how they are willing to learn, how their eyes light up because of their faith in a future where opportunities are henceforth unlocked and where everything has become possible.
Once they reach adulthood, some might become teachers, engineers, entrepreneurs or business executives. Some might even sit in this room 30 or 40 years from now or become part of the future leadership of this country.
What stood out to me in Tibet, among other things, were the people's faces. Look at the old photos and see how their faces are exhausted from a life consisting of tiresome labor and poverty. The senior population may still bear these marks. Then look at their children's faces: They are softer.
And finally, then, look at the new generation's faces: They are radiant, glowing and healthy, and express confidence and faith in the future. They are energized by an inside strength you cannot get from their ancestors. The latter never could have imagined their descendants leading such a life, one so much more comfortable, one with access to so many services and gates opened to the most prestigious careers. This was well beyond their imagination 70 years ago.
The modern world, generation after generation, tends to pull individuals away from their roots. First by forgetting them, then by being unaware of them, and sometimes by ignoring or denying them. Our modern comforts and riches often push us to be impatient, to be spoiled from time to time, and to get disconnected from nature and key human values.
It is essential that new generations, today or hundreds of years from now, never forget their roots, what kind of life their ancestors endured, their cultural heritage and all the human values which shape the soul of Tibet. Would my ancestors be proud of me? This is the question coming generations should be able to answer every morning when looking in the mirror.
Pride
All of you in this room have contributed to this awesome development. You have not only created sustainable economic value but have also offered millions of people opportunities and a sense of confidence in the future. Imagine a serf's reaction if they could see their descendants today…
Of course, you were, are and will be criticized. Criticized by people who never went to Tibet and live thousands of kilometers away. Criticized by people who have never achieved anything in life but who criticize others' achievements.
These criticisms can be painful. Sometimes they offend. Sometimes they hurt. But one thing is sure: You've made it. Have these critics done, or tried to do, at least 10 percent of what you have? Probably not.
You accomplished altogether a major feat that almost nobody in the world could achieve in the timespan of just a few decades.
You put a feudal and hugely underdeveloped region on the track of modernity and prosperity and performed sustainable investments which will prove valuable for many generations to come—all of this by preserving a unique, millennia-long cultural heritage and by preserving the environment.
Your children, perhaps your grandchildren too, may ask you one day: What have you done with your life? And then you will bring them to Tibet and show them, explain to them:
"You see this school with the children playing in the yard? I contributed to its creation 20 years ago. Before that, kids could not go to quality school like you do and an exhausting life awaited them. Now, they can choose. They can continue to raise their father's cattle; they can also choose to become a teacher or a doctor. I helped these kids to get the future they dream of. This is what I did with my life."
You opened my eyes, tore me away from the clichés I had accumulated from childhood onward and took me on a unique journey of development that can inspire many countries.
Tibet can feel proud.
You can feel proud of yourselves.
You can feel proud of your country.
–The Daily Mail-Beijing Review news exchange item