The two-day CPEC Summit, being hosted by Media Group in collaboration with the Ministry of Planning and Development, kicked off at Karachi's Bagh-i-Jinnah.
Punjab Chief Minister (CM) Shahbaz Sharif addressed the summit in the session 'View from Punjab'. "CPEC has helped strengthen the federation of Pakistan; today, Pakistan is a happening place and CPEC has proven that it is a country where people's money is safe," he said.
"CPEC has been a turning point in Pakistan's history," he said, adding: "Those who doubt intentions of the Chinese are enemies of Pakistan."
He negated the impression that CPEC was limited to one area or province, saying, "Together with Sindh, Balochistan, KP, FATA and AJK, we will build a better tomorrow."


"China is one of Pakistan's most reliable friends. Once the Chinese were convinced that people of Pakistan rightly deserved their support, then came President Xi's vision of Belt and Road Initiative (BRI) which came to be known as CPEC," said Shahbaz.
Praising China's support further, the Punjab CM said there has been no conditions or mantra of "do more" — a reference to the often repeated demand from the United States — from the neighbouring country.
"CPEC is not about roads and motorways; it's about connectivity."
Sindh CM Murad Ali Shah, Khyber Pakhtunkhwa CM Pervez Khattak and Balochistan CM Mir Abdul Quddus Bizenjo, and other speakers are also expected to address the summit.
'CPEC is a reality'
"We look upon CPEC as a partnership between two governments," said Prime Minister Shahid Khaqan Abbasi — the event's chief guest — at the inauguration of the summit in the morning. "It is a new form of cooperation."
"Three years ago CPEC was unheard of — today it is known globally. The BRI initiative of Chinese President Xi is a project for generations," he said, "Recently, we discussed security and connectivity with Afghanistan, who also recognises CPEC as an opportunity."
"CPEC has now become a reality — two power projects under the initiative have been completed and the third one is about to be finished."
'CPEC is not a debt trap'
Planning Minister Ahsan Iqbal in his address talked about the progress and development made in the country during the tenure of the PML-N's government.
"This event proves that Karachi is changing," he said, adding that when the PML-N came to power in 2013, the city was known for target killings and extortion.
"This is an age of development and growth, with the speed of an electron," he remarked.
Talking about the Belt and Road initiative, he termed it a huge opportunity. "Pakistan will become a hub of development with the help of this project.
"We made regional connectivity a key component of our Vision2025 project," he said, terming CPEC the biggest flagship project of the One Belt One Road initiative.
.
"China extended its hand towards Pakistan when no one wanted to invest even 10 dollars."
Addressing the reservations about CPEC, Iqbal said: "There are lobbies that are not happy with CPEC — it is not a debt trap."
"Some say China will become the East India Company; they haven't read history. China seeks partnership. There is nothing to fear for Pakistani businesses […] this is a propaganda."
"Long live China-Pak friendship," Iqbal concluded.
'CPEC not only about economic growth'
For the past 40 years, China has made every effort to develop and grow its economy, said Chinese Ambassador Yao Jing in his address. "We've combined socialism and market economy to benefit people."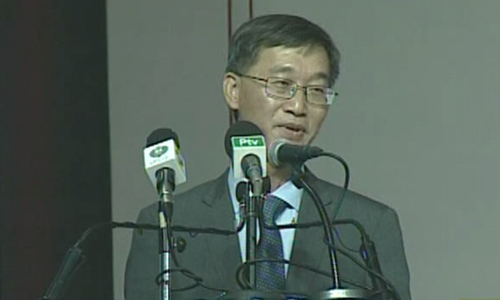 .
"China wants to see its relationship with Pakistan serve as example for its relations with other states," said Jing while speaking on the CPEC. "We look at CPEC as a significant project. I'm proud that after five years of implementation, it [CPEC] has contributed to Pakistan's development."
"CPEC is not just about economic growth; we want to develop a community."
Objectives of CPEC
A symposium, "The dynamics of economy and finance", preceded the inauguration ceremony. The discussion featured, among others, former State Bank governor Ishrat Husain and former finance ministers Shaukat Tarin and Abdul Hafeez Shaikh.
It's one of the biggest events to be held in the country on the China-Pakistan Economic Corridor aimed at educating the public about the objectives of CPEC and its umbrella project, the Belt and Road Initiative.
The highlight of the second day will be a session titl­ed "The view from China". Yao Jing is slated to be the main speaker.