Beijing: Jiang Jinyue, a sophomore from Sichuan Province, was at home when a 6.8-magnitude earthquake rattled Luding County in the province on September 5. "I was opening my bookcase door when it suddenly started shaking. I also heard something collapse outside. I immediately dashed out of my building," she told Beijing Review.
Growing up in this province, Jiang is no stranger to the occasional tremor, but this most recent shock saw her fly into a panic. "When everything started shaking and swaying, nothing else mattered anymore, only survival," she said.
The epicenter of this shock was in the historical town of Moxi, which has many ancient buildings that are hundreds of years old, 52 km from Jiang's home. Earthquake rescue and relief soon started, with people from all over the country lending local victims a helping hand.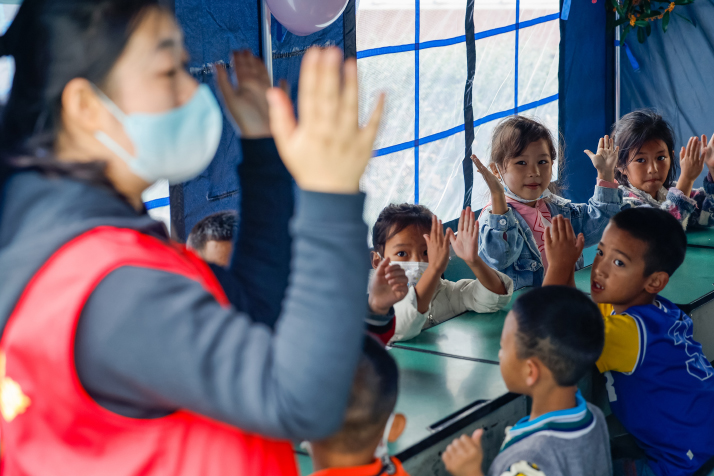 The shock
According to the China Earthquake Administration, the Luding earthquake is the largest seismic event in Sichuan since the 7.0-magnitude one striking popular tourist destination Jiuzhaigou in 2017. The shaking lasted up to 20 seconds. As of September 12, it had claimed 93 lives and 25 people remained missing.
Sichuan, which sits on the edge of the Qinghai-Tibet Plateau where tectonic plates meet, is prone to quakes. Over the past year, the province registered more than 150 of various levels, according to data released by the China Earthquake Networks Center in June.
Luding is in the highly active Xianshuihe fault zone and has the potential for surface rupture. September's earthquake occurred where the Qinghai-Tibet Plateau and Sichuan Basin meet; the steep-sloped mountains, deep valleys and canyons make it a high seismic hazard zone, according to Wu Jian, Deputy Director of the China Earthquake Disaster Prevention Center.
"In particular, the self-built homes of farmers here are located on these steep slopes and in valleys near the epicenter, and most of them don't meet seismic building standards, making them vulnerable," Wu told People's Daily.
Located in Garze Tibetan Autonomous Prefecture, Luding is a must-visit for people en route to Tibet Autonomous Region. With over 84,000 permanent residents of several ethnic groups, it is a bustling tourist place. The very center of the recent earthquake was in Hailuogou Glacier Park, the country's only glacier and forest park with rare animal and plant resources, attracting millions of sightseers every year.
When the earthquake struck, more than 200 visitors and staff members were on site. Liu Di was one of them. "I've never experienced such a big quake," he recalled. Scenic area management staff quickly realized what was happening and started evacuating people.
Liu added the scenic spot often conducts emergency response drills, about five or six times a year. They have concrete plans for evacuation for different types of natural disasters, including earthquakes and mudslides; and they have also identified optimal resettlement sites. "In a crucial moment like this, these precautions provide some kind of reassurance. We weren't panicking and soon began the evacuation of visitors," Liu told The Beijing News.
Within 50 hours, the 219 people stuck in the park were rescued.
To the rescue
About two hours after the initial shock, Xu Liyuan, together with other tourists stuck in the park, had their first meal. At that time, they were still unable to connect with the outside world. The scenic area's shop owners brought them the extra food and daily necessities they'd stocked for peak season.
As night fell and temperatures dropped, people were able to get some rest in the tents the staff had set up or in heated sightseeing buses. The next morning, they were finally able to get in touch with the local government, which told them to stay put and wait for help. It was this reassuring phone call that calmed down Xu and other visitors trapped in the area.
On the afternoon of September 6, the first group of rescue workers arrived. "Eight people carrying ropes, with mud splashed across their boots and trousers," Xu said.
"They had climbed their way here, up and down the treacherous slopes. When we saw them, many of us teared up. I'd only seen such a moving scene once before, on TV, when the Wenchuan earthquake happened," Liu added.
The 8.0-magnitude Wenchuan earthquake hitting Sichuan in 2008 left 69,226 dead, 17,923 missing, and caused tremendous property and environmental damage. To this day, the catastrophe still stirs up painful memories. Wenchuan is located some 300 km from Luding, but the two earthquakes differed from one another in terms of fault zones and motion patterns, according to Xu Xiwei, former head of the National Institute of Natural Hazards.
But similar to the quake 14 years ago, the entire country joined in the disaster relief efforts. The Central Government, by early morning the day following the shock, had dispatched rescue forces with more than 6,650 members, including Chinese People's Liberation Army soldiers, firefighters and medics. Rescue workers have not only saved lives but also help locals resettle and resume life.
Organizations and individuals alike, from philanthropic foundations to companies and celebrities, donated money and materials worth over 1.4 billion yuan ($201 million).
With the situation stabilizing, rescue workers started packing up their gear and getting ready to leave. As dawn broke on September 13, when the rescue team's vehicles passed through Luding's neighboring county of Shimian, also seriously affected by the disaster, locals lined the roads to bid farewell to the rescuers and show their appreciation. Many of them brought fruit, nuts and smoked meat, a local specialty, handing rescue workers their gifts through the car windows.
Ni Chunhua, in her 70s, was one of them. Instead of giving food like most of her fellow villagers, she gave them her handmade shoe insoles. "The nights are getting colder, these young people might need them while working hard somewhere else," she said.
Recovery underway
Currently, Luding is slowly recovering. The Luding-Shimian Highway, a crucial transport artery that had partly collapsed, was able to return to 35 percent of normal operation level on September 13. While construction was in progress, workers also received counseling and safety training.
The Central Bank's branches in affected areas drafted plans to provide financial assistance to companies, especially small and micro private businesses. Moreover, people with housing loans living in the affected area are now entitled to loan extensions.
On September 14, all primary and secondary schools, kindergartens and secondary vocational schools in Luding resumed offline classes. Some 142 primary school students and young children who were temporarily unable to return to their original schools, were arranged to attend nearby ones to ensure they wouldn't fall behind.
–The Daily Mail-Beijing Reviews