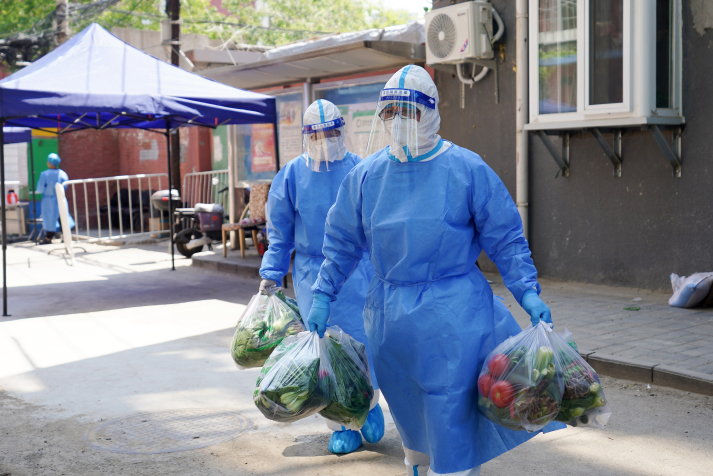 'Omicron" first appeared in my diary on November 29, 2021, five days after the COVID-19 variant was first detected in South Africa. It was said to be more transmissible than Delta and several cases had been confirmed in Hong Kong within days. Zhong Nanshan, China's top respiratory expert, said back then it was too soon to assess Omicron's full impact. "How will it affect our lives? Will it enter my community?" I wrote, sitting in my apartment in the east part of China's capital on that late autumn day.
Five months later, I got my answer: Omicron has arrived at our doorstep.
Entering the bubble
As I am writing this, it is May 5 and most of China has wrapped up the May Day holiday and is back at work. Not me, though. That is because of a call I received 11 days before…
On the afternoon of April 25, I was at work when I received a call from Beijing's epidemiological investigation team. The woman on the other end informed me that my husband was a close contact of Beijing's confirmed case No.165; both had been to the same snack bar a week earlier. Consequently, those living under the same roof automatically became secondary contacts, in this case meaning my mother-in-law, my daughter and myself. Our residential compound, together with several others nearby, would go into lockdown. I was advised to go home as soon as possible and, to minimize the possibility of transmission, not to take any means of public transportation.
Two hours later, my husband came to pick me up. We checked Amap, a popular navigation service in China, and saw how a 7-square-km rectangle block comprising dozens of communities in the capital's Chaoyang and Dongcheng districts had already been colored pink, with a high-risk area marked out. The whole block had become a "controlled area," from which no one is allowed to leave unless they require medical attention. When our car entered the block at 4 p.m., shops, except those selling food, were closed. Hospitals remain open.
April 26, day 2 of our home quarantine. My husband received several calls from different administrative units, including the district's center for disease prevention and control and the residents' committee, the community's self-governing organization. We were told to stay home and wait for medics to come and conduct two rounds of COVID-19 nucleic acid testing. The medical worker also collected samples from our apartment's doorknobs, light switches and toilet.
My husband, as a close contact, was told to pack a bag because he might be transferred to a centralized quarantine facility—if they had a vacancy. He required a 21-day "retroactive" quarantine, starting from April 17, the day he went to the snack bar. If our household tested negative and they had no space available, all of us would have to stay indoors till May 8. That's two weeks of four people cooped up in one apartment.
The results came out the next morning: all negative.
April 30, day 6, my husband got tested again: another negative—and a great relief.
Our fellow compound residents, neither close contacts nor secondary contacts, had done six rounds of nucleic acid testing at a nearby park before May 5 as required by the municipal government. "It's an unprecedented move. Beijing aims to identify all asymptomatic cases as soon as possible by conducting mass testing, quarantining all close contacts and putting compounds where confirmed cases reside under controlled management to cut off all possible transmission channels," Hu Xijin, former Editor in Chief of Global Times, wrote in a WeChat comment on the city's anti-pandemic measures, on April 25.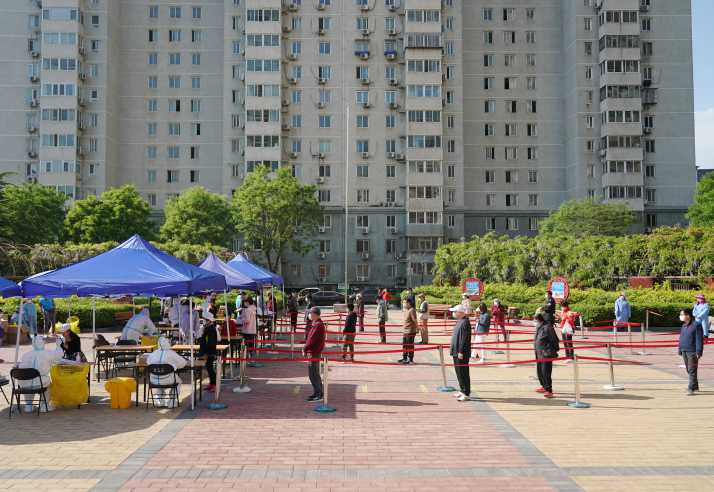 People line up for a COVID-19 nucleic acid test in Shijingshan District, Beijing, on May 3 (XINHUA)
Compound life
Food is a top priority during quarantine and some residents had gone into panic buying the day before we went into lockdown. When my mother-in-law went on her usual trip to the grocery store on the morning of April 25, the place was packed. Pork had already sold out and only chicken was left—at 9:30 a.m. "Don't worry. The store won't be closing and we'll have pork again tomorrow," the saleswoman told her.
My mother-in-law managed to fill our fridge with foods that don't spoil easily, including potatoes, carrots, asparagus and eggplants.
April 28, day 3. We joined a WeChat group with 500 members, created by a nearby supermarket. This allowed us to place bulk orders for anything ranging from staples like rice and noodles, vegetables and fruits to beer and even instant hotpot. I placed an order at noon and the groceries were delivered to our compound gate within three hours. Volunteers then distributed the packages to my home. No muss, no fuss—sort of.
With the daily supplies ensured, the next question becomes: How does one kill time inside a capsule-sized apartment?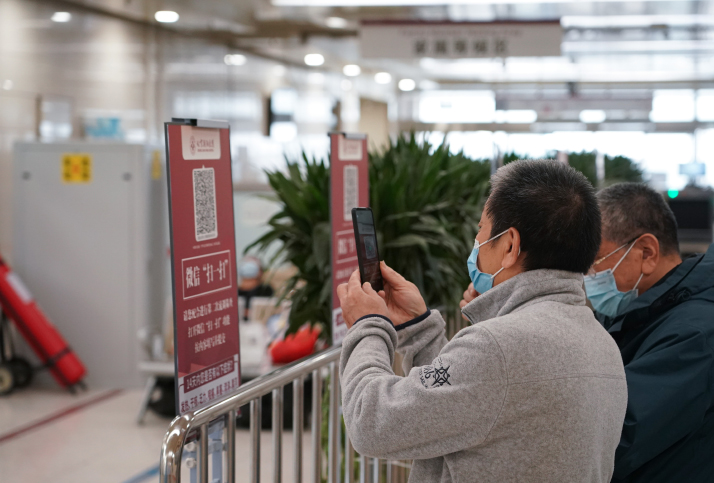 Patients' relatives scan QR codes to have their health status registered before entering the emergency department of a Beijing hospital on May 2 (XINHUA)
Finding the silver linings
I am an editor and a bookworm. Daily writing and editing tasks aside, quarantine offered me abundant time to pick up a new book—or two. My husband works in marketing, so a host of online meetings and incoming calls made sure his days would generally fly by.
As for my daughter, this quarantine has turned out to be a blessing in disguise.
"Can I play with another secondary contact kid?" she asked me on day 1.
"Sorry, you can't. But you can play with mom and dad because we're not going to the office," I replied. "Yay!" she exclaimed.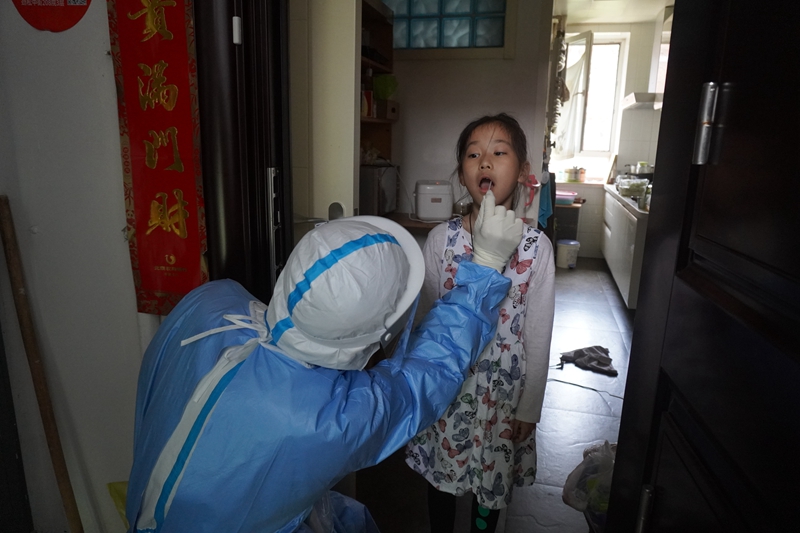 A medical worker conducts nucleic acid testing for Li Nan's daughter, on May 5 (LI NAN)
Every day, my husband and daughter will get into a massive pillow fight, a rare sight in this household. My husband was always so busy that he seldom had time to really play with our daughter. On May 2, day 8, my daughter announced that, "Dad and I now are great buddies."
That's an unexpected silver lining to our shared quarantine experience.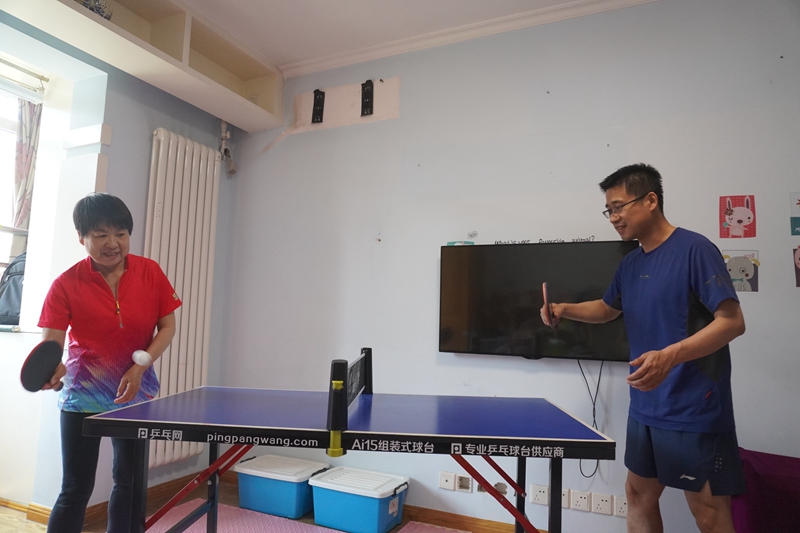 Li Nan's mother-in-law and husband play table tennis during their home quarantine on May 5 (XINHUA)
But my 67-year-old mother-in-law is a different story. She used to spend her days outside, playing table tennis and cards at the park with her friends every day. Following our lockdown, all her activities had to be canceled. The first couple of days she kept complaining to vent her frustration, which is understandable. On April 30, day 6, she came to terms with the strict protocols. To cheer her up, on May 4, my husband started playing pingpong with her on our table tennis table. After an hour of swinging the paddle, she was smiling again.
That same day saw the pink area marked on the Amap shrink to half its size, with the northern part back on track. And Beijing shortened its quarantine time for close contacts by four days. Yay!
-The Daily Mail-Beijing Review news exchange item